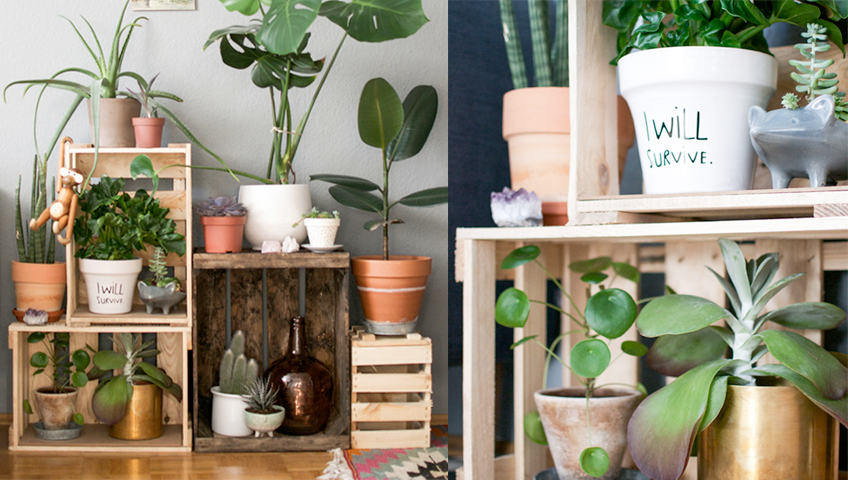 3 Tips for Creating an Indoor Garden
There's nothing like adding a touch of greenery to your décor to freshen up your interiors. Whether you're an avid gardener or don't have a green thumb at all, here are a few tips to help you create your first interior garden.
Tip #1: Choosing Your Plants
There are many plants that can be grown indoors. Thick plants that don't need much maintenance, flowers, and aromatic plants (herbs). Choose your plants based on your wants, but also on the time you have to invest in tending your garden. Flowers, for example, need more attention than thick plants or herbs. Ask your
local florist
for advice to find out which plants are best for indoor cultivation.
Tip #2: Pots & Potting
When it comes to choosing pots for your plants, give room to your imagination and find one that speaks to you and your plant. Mason jars, teacups, terracotta, jam jars… The possibilities are endless.
Once you've made your choice, it's time to start potting! This part is easy: simply add about 2cm of gravel to the bottom of the pot, cover with earth, dig a hole, place in your plant, then cover the roots with earth.
Tip #3: Placement & Maintenance
The location you choose for your indoor garden is important, since depending on the type of plants you have, they will
need so may hours of sunshine per day
. Close to a window or bay window is usually the ideal spot.
Maintaining your plants is relatively simple, depending on what type of plants you have. All will need a certain amount of watering to maintain a degree of humidity, but be careful not to drown them! Our advice: use a spray bottle instead of a watering can. It's easier to measure the amount of water you're giving your plants!

You now have all the tips you need to start your own indoor garden and add some green to your décor. Now here's a little bonus inspiration to get you on your way…

Happy Gardening!

Special Contributor: Staci Coulson, Anugo