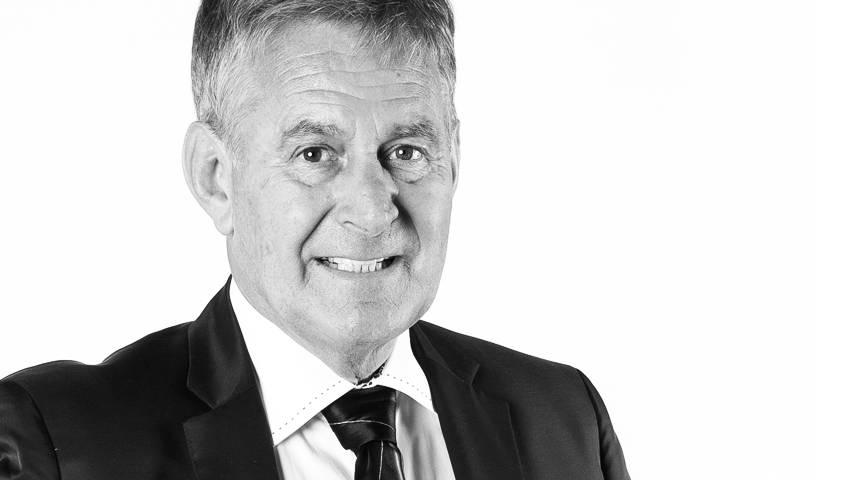 Construction Voyer: the beginnings of a wonderful adventure
At 23 years of age, René Voyer may not have earned a degree, but he had talent and determination. A native of Rimouski, he loved being outdoors. An office job was simply not for him. That's why he started working on construction sites. Then he founded his company in 1972.
« I've always been a manual labour and outdoors guy. Before going into construction, I was offered a job at General Motors. One of my brothers said to me: « René, I give you no more than one week between those four walls. You'll find it hard. » I told him he was right. I was supposed to start the following morning, but I never showed up, » admits the founder of Construction Voyer.


A passion is built
René arrived in Montreal in 1964. Self-taught and with no special training, he worked on construction sites. Experienced in carpentry, he quickly learned and developed new strengths: excavation, framing and divisions.
At the time, he was hired by a general contracting firm managed by a man named Mr. Dastou. One fine day he approached René and said: « Are you nuts? Someone who works as fast and as well as you do, doesn't work by the hour. You build houses and then you sell them. » The contractor piqued the pride of his apprentice, took him under his wing, and gave him land that he owned in Duvermay. The young man built a house, then two, and so on. Business took shape, as did projects.
A family history
The beginnings of Construction Voyer were modest. When René's wife wasn't working at her hairdressing salon in Pont Viau, she worked at the sales office located on the lower floor of their home in Laval. When Pascal was born, they sold the salon and devoted themselves entirely to the family business. Ever resourceful, the young mother even went to construction sites to take rolls of black paper to the bricklayers.
Then cell phones, faxes and walkie-talkies appeared and changed the means of communication. « We always had to go out in the street to get a signal so we could hear each other, but it was much more convenient to talk to each other than the office phone », remembers the founder with a nostalgic smile.
During this period, Construction Voyer started several residential projects in Auteuil, followed by larger projects in Saint-Vincent-de-Paul and in Montreal West. « It was funny because I didn't speak a word of English, no more so than now in fact, and most of our clients were Anglophones. Bilingual and living across from our home, my sister-in-law sometimes came to give us a hand as an interpreter », he confesses, laughing heartily.
The opportunity that changed everything
Already known for his solid and sustainable homes, René was approached by Hydro-Québec for a pilot project of homes that were insulated better than anything on the market. « The standards were strict. We built 2' x 6' walls. At that time, nobody did that. People only used 2' x 4's and almost no insulation », he adds with great pride. The project was a resounding success and Mr. Voyer's business was growing by leaps and bounds.
In 1982, National Resources Canada (NRCan) and Hydro-Québec wanted to launch the R-2000 home program. Thanks to the experience acquired with Hydro-Québec, Construction Voyer was selected as the builder for the pilot project. René succeeded in getting the engineers at Hydro-Québec and the government to work together. A victory in itself. Then he acquired grants for materials with other companies who wanted to participate in the project. Everyone was a winner and the project was a complete success from every standpoint.
As a result of this initiative, Construction Voyer positioned itself in the market as a company that builds the most insulated homes. A line had been drawn, that of superior quality and of the energy-efficient performance of its homes.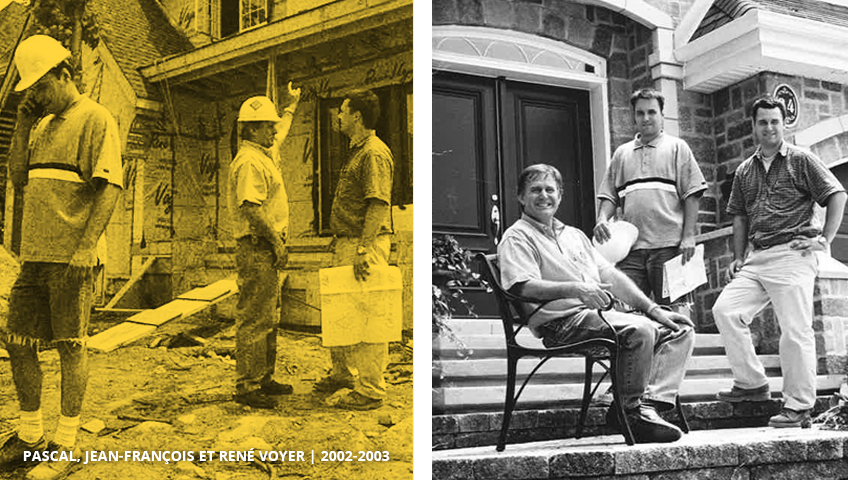 Giving back
Since they were teens, René encouraged his sons to work on family construction sites on weekends. They painted the handrails and balconies in the apartment blocks, did repairs, learned the basics of the trade, and did a few naughty things, like all young people of their age.
Years later, with several large-scale projects completed, René contemplated retirement.
Pascal and Jean-François agreed to take over the reins of the company and become owners. Combining their strengths and working hand-in-hand, they continued to uphold the Voyer promise, that of creating exceptional living environments. Day after day, year after year, they pursue their father's dream… and fill him with pride.

From the entire Construction Voyer team,
thank you to our clients for 45 years of trust!